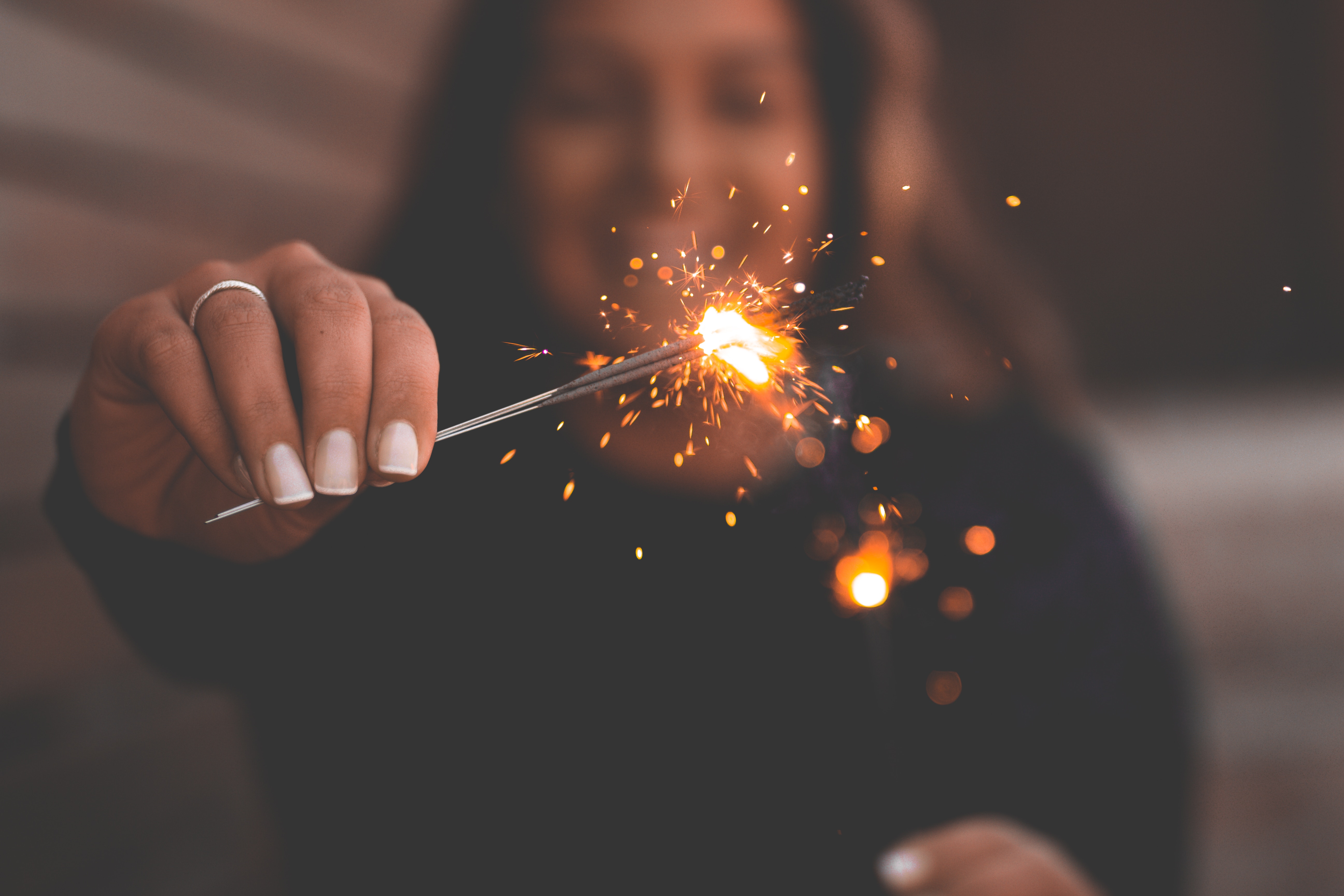 Recently I was asked to join the 'panel of experts' on a great new Facebook group called The Wycombe MumBoss Club, an offshoot of the successful Cheltenham MumBoss Club, brainchild of Kate Starkey. (Expert??- me?! Oh yes, I know some stuff that might be of use to some other people. Somewhere. Back in your box, Imposter Syndrome)
It is day two of their instagram challenge which aims to help people get to know more about its members and their respective businesses. Today's theme was MOTIVATION. And it got me thinking about what mine was for starting up my coaching and employee engagement business, Shine Brighter.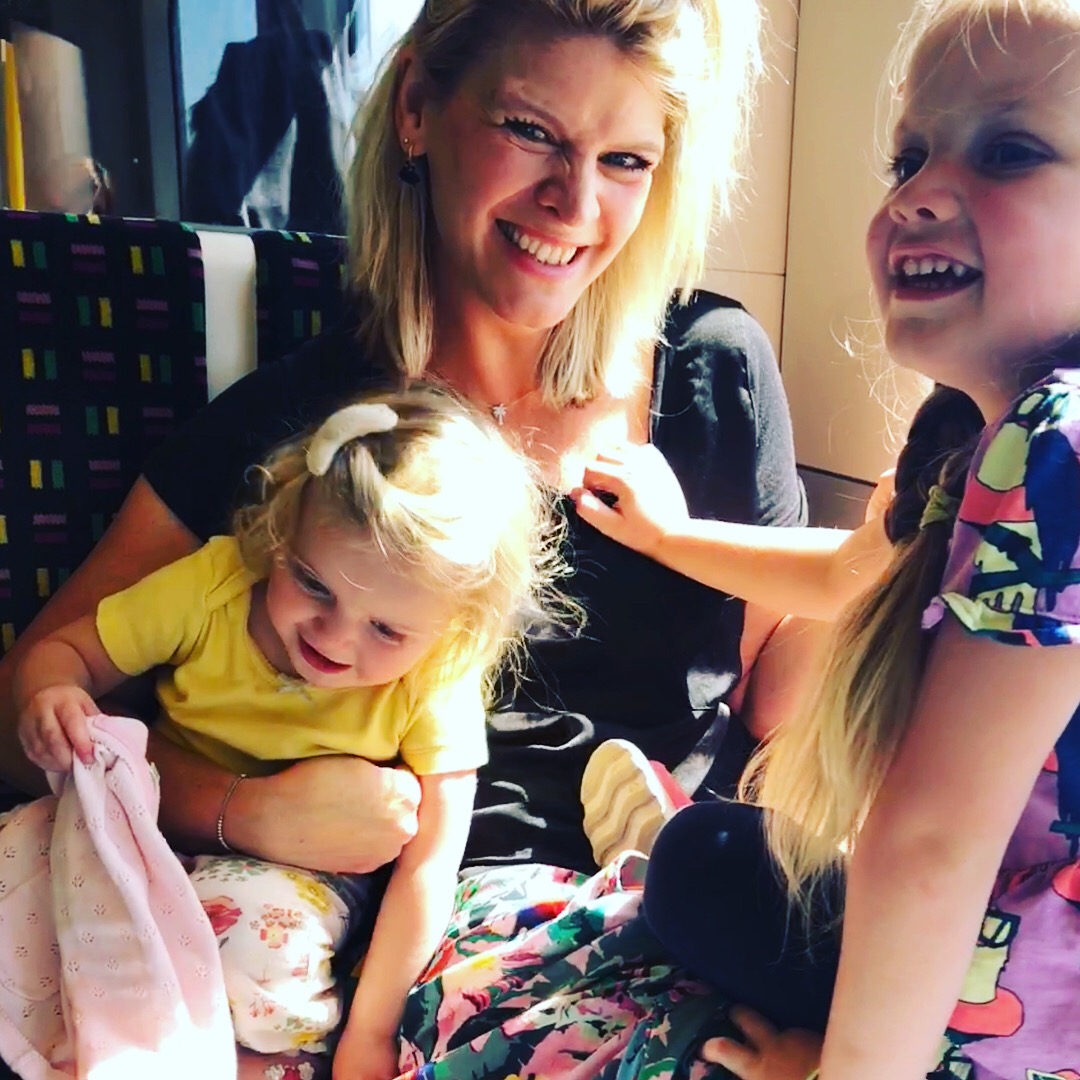 It turns out that these two small women are my main motivation. For pretty much everything I do, in fact. They're the reason I went freelance back in 2016. (Well, I was newly pregnant with the small one then but I was planning ahead!)
When I got made redundant from the job I loved in the Spring of 2016 – completely out of the blue- my whole world came crashing down around me. We'd just secured The Sunday Times Best Companies #1 spot for the 2nd year in a row – the absolute highlight of my employee engagement / OD career to date. I had managed to negotiate flexible working after returning from my first maternity leave, I was using my brain again, doing what I loved with a great bunch of people and still managing to see my 2 year old daughter, despite the 3 hour daily commute. Life – so I thought – was sweet.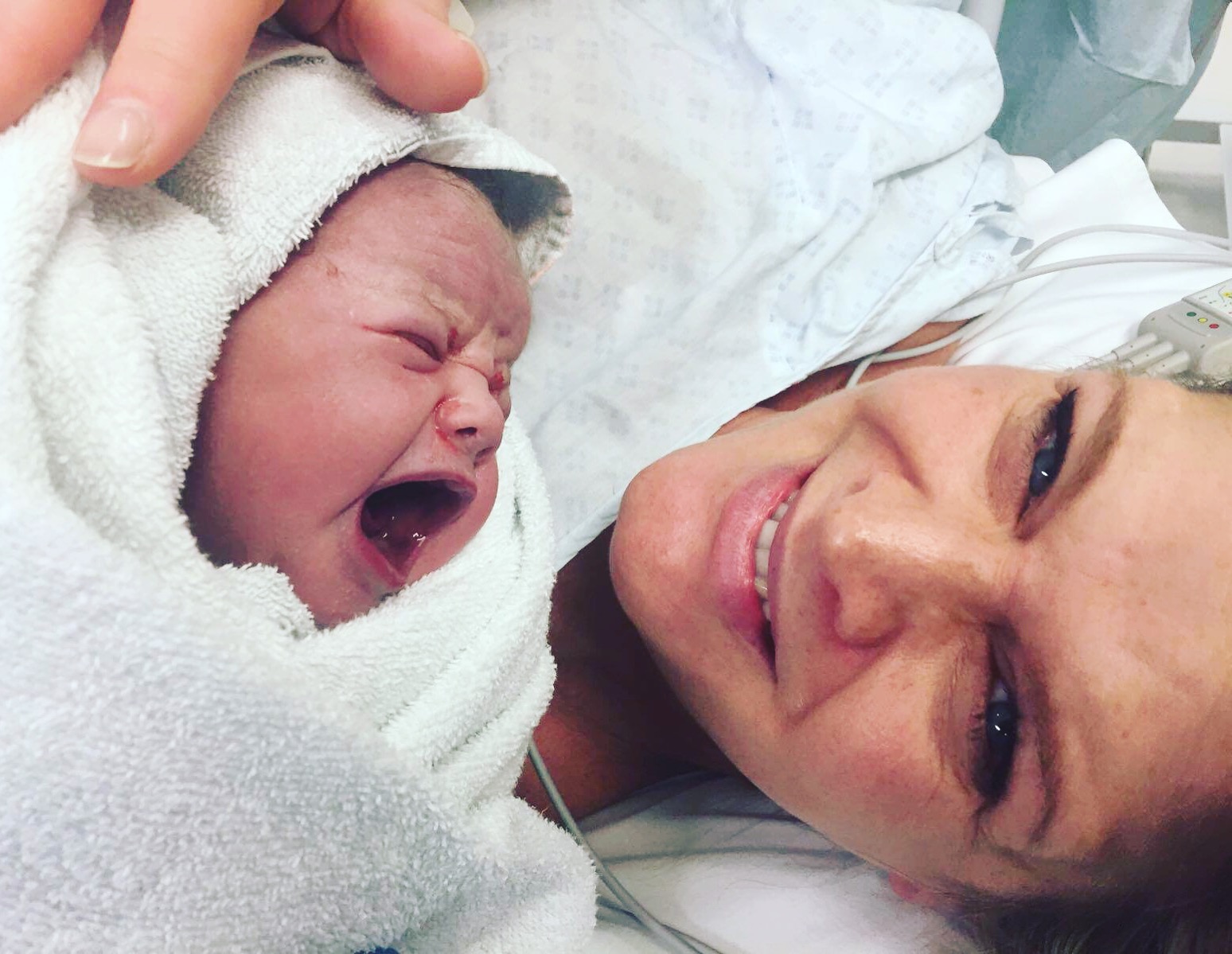 I was in the early stages of pregnancy and so wouldn't quite qualify for maternity pay from my old employer and was worried I wouldn't be able to secure a part-time role for the few months I had left until the baby arrived. I panicked. I had no savings and more or less a statutory redundancy payout, a baby on the way and a 2 year old in nursery. I set up Shine Brighter Consulting and secured my first freelance employee engagement contract the following week. I'm not one to waste time wallowing when crisis hits!
I totally lucked out and had a fabulous first freelance experience working with a brilliant property and asset management business keen to bring their values and ethos to life through their culture and employee comms for 3 months. Then the baby came and my new business got filed on the dusty top shelf next to 'me time' and 'sleep'.
Just under a year later I slowly began to emerge from the funk of 'new mum of two under three'. Think simultaneous potty training and breast feeding. Only then did I start to think about how I could truly leverage my strengths, experience and skills in such a way that would align with my personal values and help other mothers return to work and have meaningful careers after having children.
I decided to expand my existing consultancy and share my coaching and career development expertise with women who are keen to return to work but don't have the practical or emotional support that they so desperately need in order to make that transition a smooth one. I still work with companies on their engagement strategies and workplace cultures but this consultancy has taken on a different flavour, if you like. By helping them design comprehensive Return to Work Programmes and through supportive coaching provision, I help them create inclusive and supportive workplace cultures that enable talented parents to return to work with confidence, thrive and be their best. A win win for all concerned.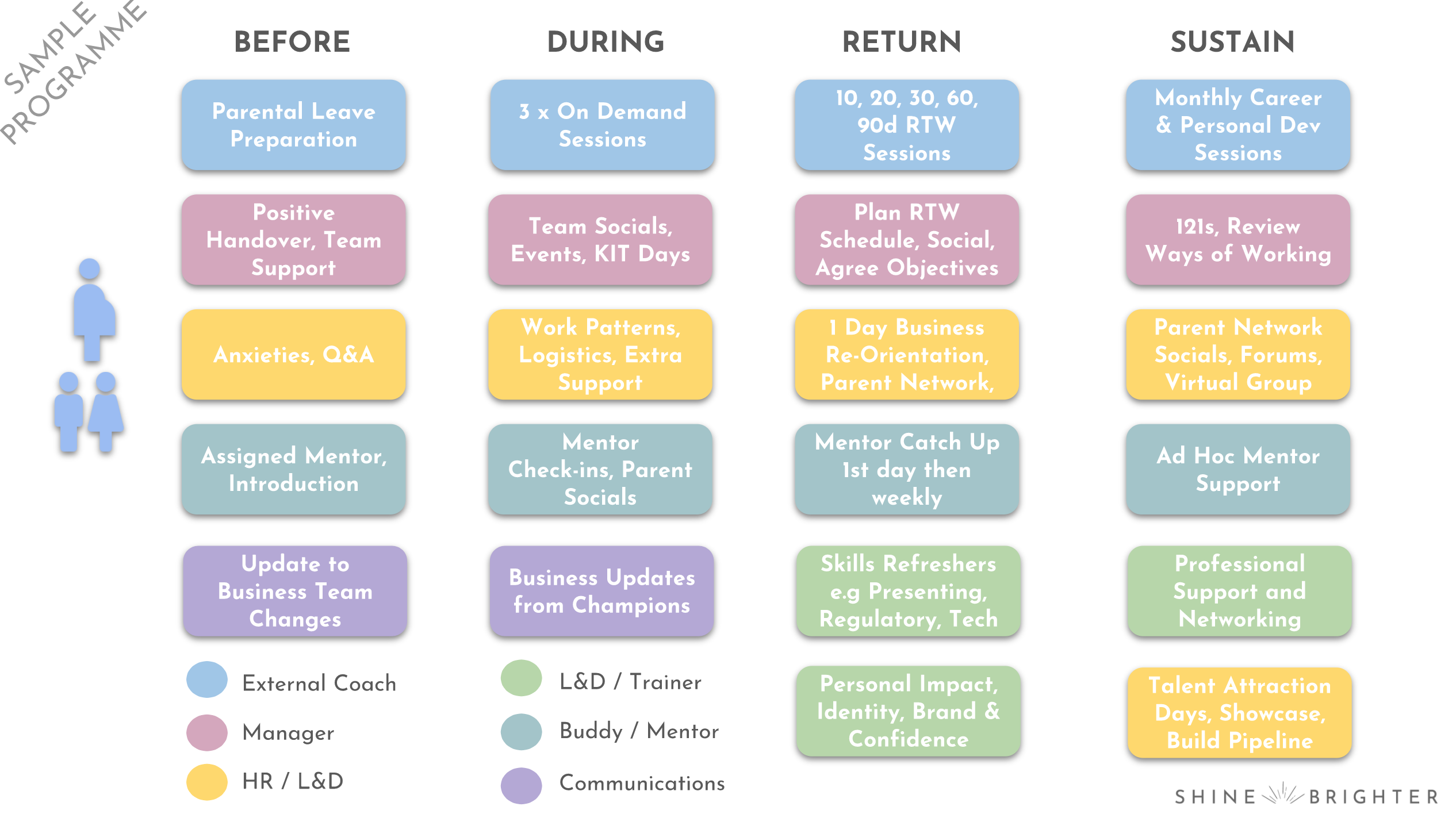 So as you can probably tell, my motivations for setting up my business are part-personal, part driven by a fire in my belly. Double the impetus, if you like!
I know that I am so lucky to have lots of psychometric tools available to me which have helped me work out what I was meant to do with my life and career. By revisiting my own personal values, unique combination of strengths and work experience, I have been able to build a business around what I love, what lights me up – because I am passionate about it – as well as – although I find this hard to admit in true self-deprecating British style – what I am actually good at.
I fully appreciate that most mothers don't have the luxury of being a career and performance coach or accredited in self-awareness building psychometric tools! So if you feel that my career or return to work coaching could help you or the women in your organisation, please do get in touch on sarah@shinebrighterconsulting.co.uk

Sarah Clarke is the founder of Shine Brighter Consulting which provides practical and emotional support to mothers and their employers, ensuring brilliant women can return to work and shine even brighter. We future-proof organisations by helping them create unique and extraordinary workplace cultures where the best people will thrive and grow.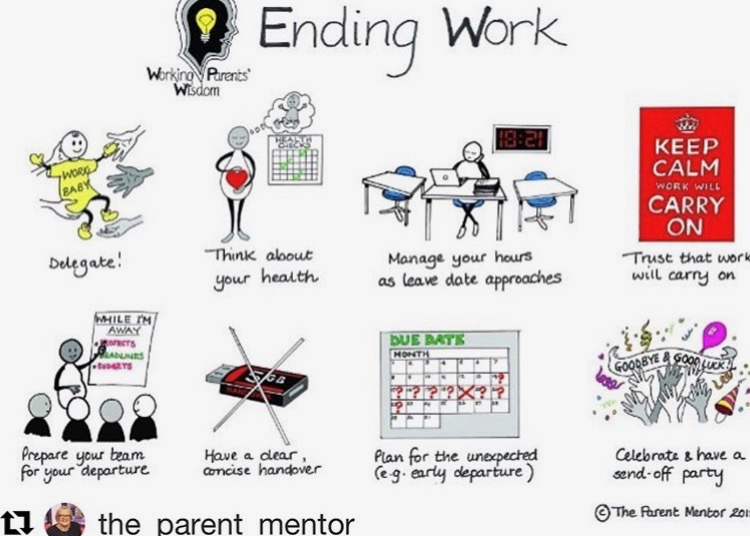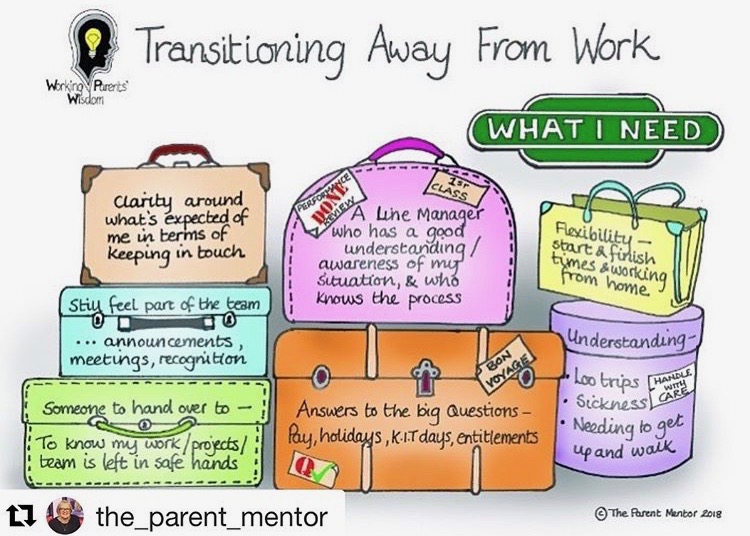 Here are some handy little sketches from @the_parent_mentor for any mums-to-be about to embark on maternity leave.
Handing over and actually ending work are surprisingly challenging transitions in the wonderful journey that is maternity or parental leave.
It's a time of mixed emotions. Excitement, trepidation, loss of control, fear of the unknown, self-doubt, celebration, joy, freedom, sadness.
I felt them all to differing degrees. Depending on the day!
I worked my waddling backside off on my handover documents, sat down with each member of my team to reassure them that they would be in safe hands while I was away.
If I'm honest, I knew no such thing. No one was appointed to cover my head of department role and I basically felt like I had dropped lots of very shiny, special balls as I walked to the tube on my last day with my lovely bunch of flowers and John Lewis vouchers.
It was terrifying! I was in the dark about what I was about to become (a mother) and equally unsure about what I would come back to when I returned to work.
Employers play a huge part in making their talented parents-to-be feel supported but the onus should not be solely on them.
If we don't ask for what we need, then they will never know and both parties will ultimately lose out.
I wish I had been more demanding and clearer about what I had needed as I left for maternity leave. Hindsight is a wonderful thing, isn't it!
What advice would you give to a mum-to-be who is about to go on maternity leave?