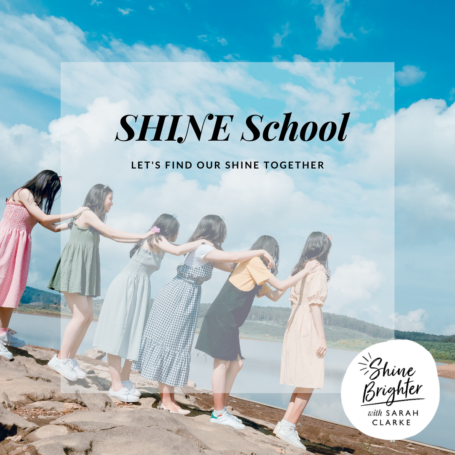 SHINE School is a VIP, face-to-face group coaching programme for talented women – just like you! 
You have enjoyed a successful career to date, but have recently lost your way.
You'd like to spend some time reconnecting with who you are, what you're great at and what you actually want out of your professional life. 
You may – for whatever reason – be in need of some clarity and a confidence boost to help reboot your work life and unlock your potential; be that in your career or business.
The definition of 'shining brighter' is obviously such a personal thing; but if you put the work in, you can expect to achieve the following as a minimum:
Enhanced professional confidence
Unrivalled self-awareness
Newfound insights into how you can unlock your potential
A personalised blueprint and plan for a happier and more successful work life
A brand new, curated network of friendly, like-minded and talented women who will have your 'professional back'
Of course, what you actually choose to do with these new-found gifts is entirely up to you!
The premise of the programme is that as women, 'together we are stronger'. 
After all, it's when women support one another women that the magic happens.
So it feels only right that I'm launching this new programme on International Women's Day – 8th March 2020.
Is this coaching programme for you?
SHINE School is the perfect option for you if:
You're located within easy access of Central London and the Allbright women's members' club in Fitzrovia
You're happy to dedicate 3 evenings after the Easter holidays between 18:30 – 20:30pm (exact dates to be mutually agreed with the group) 

You learn and make progress by talking things through and bouncing ideas off other like-minded women 

You like the idea of learning and growing with others and are inspired by other women's career stories
You're happy to share personal stories with others in a safe and confidential space
You'll be invited to attend 3 x 2 hour group coaching sessions and workshops at the Allbright women's private members' club in Fitzrovia, Central London.
Spaces on this programme will be limited to keep things impactful and friendly and ensure you get the support you need to make progress.
During these 3 sessions we will cover off every phase of my signature S.H.I.N.E Coaching Framework as per the following schedule:
Session 1 – S is for Story and H is for Happiness  – Revisit your career story, define your work utopia
Session 2 – I is for Insights and N is for New –  Identify your core values & strengths, create a your ideal work blueprint
Session 3

– E is for Embark and Find your Purpose

–

Build a watertight plan for success, create a career vision board
You'll receive templates and reflection exercises to work through prior to each of the workshops to ensure we make the most of our time together when we meet as a group.
The sessions will include a combination of practical theory, discussions, reflection and coaching; but will always be friendly and informal – with just the right balance of challenge and support from me.
By the time we arrive at the 5th and final phase of the framework, 'E is for Embark', you'll have created a practical, step-by step plan that you will be able to start implementing the very next day.
You'll also get a 30 minute follow-up 1:1 call with me to consolidate your insights and actions.
During the course of the programme we'll work together to:
Decode, identify and define your core values

and what's important to you

Reconnect with your innate

talents, strengths and USPs; boosting your career confidence

Articulate clearly the

value of your skills, knowledge and experience in the world of work and business
Learn how to boost and upgrade your strengths to 'Superpowers'

Design a blueprint that will help you

unlock your potential and design your best work life
Understand how you can take your career or business (idea) to the next level
For an investment of 1 x payment of £699*
(or 2 x payments of £360)
(*Earlybird price of 1 x payment of £599
(or 2 x payment of £310) ends at midnight 16th March!)
you'll get:
3 x 2 hour group coaching workshops at the Allbright
Complimentary tea and coffee during the workshops
1 x 30 minute follow-up coaching call via Zoom – worth £100

The S.H.I.N.E Workbook  – 50 pages of coaching exercises, templates and theory – 

worth £199

Unlimited 'office hours' email / WhatsApp support for 1 month after our time together

A beautiful coaching journal to capture those all-important 'lightbulb' moments!
Add a Hogan psychometric assessment (which looks at your Values, Strengths and De-railers) + an extra 90 minute feedback session – £399 (worth £500)
Or click the image below to find out about how we could work together 1:1.