S.H.I.N.E - The GOLD Package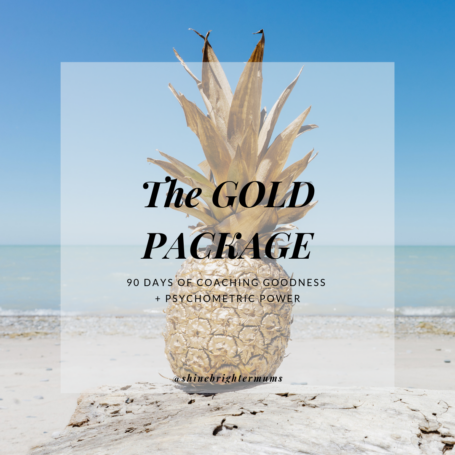 The GOLD Package truly is truly the 'gold standard' of all my 1:1 career coaching packages. 
This package is for you if you're ready to take action and work out your best next steps in your work life; be that in your career or business.
Do any of these statements sound familiar?
You've enjoyed a successful career to date, but you've lost your way

You're in need of some clarity and a confidence boost to help reignite your passion for work

You're keen to unlock your professional potential

You're feeling stuck, unfulfilled or unappreciated
You've you lost sight of what you're great at
Most days you feel like you're just 'going through the motions'
Your 'career mojo' missing in action
You'd love to find that elusive 'sweet spot' where your passions, talents and experience collide with a need in the world; whilst allowing you to enjoy family life
When I work with women over 90 days (or more intensively if they really mean business!) through my  bespoke S.H.I.N.E coaching framework, they get incredible results.
Their professional confidence levels soar as they find out what makes them tick and exactly what they want and need in order to be happy and successful in their work lives; be that in their careers or businesses.
These brilliant women go on to make significant changes to their careers or grow and launch businesses they love, unlocking their professional potential. In short, they really do shine brighter. (Click here to see for yourself what they say.)
See the testimonials at the bottom of the page to give you a flavour about what is possible if you're able to commit 100% to your plan.
The Logistics
Following my signature S.H.I.N.E Coaching Framework, we'll have  6 x 1:1 coaching sessions together over a period of 6-12 weeks (as determined by you), either face-to-face** if convenient or via Zoom.
If you're located within easy access of Central London, you'll have the option to hold our sessions at the stunning Allbright women's private members' club in Fitzrovia.
**some face-to-face meetings may incur travel expenses.
The Workbook
At each of the 5 phases of the  S.H.I.NE framework, I'll send you a section of the SHINE Client Workbook to work through prior to our session. This 50-page workbook is packed full with exercises, coaching reflections and a little theory on values, strengths, purpose and positive psychology.
The Psychometric Tool
Using insights gleaned from a powerful psychometric tool called Hogan, I'll help you reconnect with your unique professional values and strengths as well as those pesky blindspots that might get in the way of your success if left unchecked. 
The tool generates 3 separate reports. One on your drivers, motivators and values, another on your positive attributes, strengths and reputation at work and another on your blindspots or potentially derailing behaviours that might get in the way of your success if left unchecked. 
These insights about your personality hold the secret to unlocking your professional potential and happiness in your career or business.
We'll use the data generated by the assessment to validate your own hunches about what your core values and strengths might be; providing you with incredible clarity around the optimal direction for your career or business.
I'll send you your login details for your online Hogan assessment and you'll be able to work through the 3 questionnaires in your own time. (You'll need about 15 mins to complete each questionnaire.)
Session Breakdown & Objectives:
Over the course of our 6 x 1:1 sessions together, you'll:
Decode and define your core values
Reconnect with your innate talents, strengths and USPs
Articulate the value of your skills, knowledge and experience in the world of work and business
Design a blueprint for your best work life

Learn how to boost and upgrade your innate strengths and talents to 'Superpowers'

Understand how you can take your career or business (idea) to the next level
During our 6th and final session together – 'E is for Embark' – we'll work to formulate a practical, step-by step plan to get you living your best work life that you'll be able to start implementing the very next day. 
What if I need more support in executing against my plan?
There will be the option to sign up for additional coaching support after you have completed the SHINE programme to help you overcome self-limiting beliefs such as imposter syndrome, ensure that you deliver against your goals and keep you accountable. You can read more about those options here.
For an investment of £1199* you'll get:
6 x 1:1 Coaching sessions via Zoom 

(or face to face** where convenient)

 –

worth £1200
The Hogan psychometric tool (3 reports: Values, Strengths, De-railers) – worth £350

Hogan materials and handouts 

'Homework' and exercises between sessions
The S.H.I.N.E Workbook  – 50 pages of exercises, templates and theory – worth £199
6 month's FREE access to my Development Membership, The SHINE Collective – worth over £200 

Unlimited office hours email support for the duration of the programme

 
*payment plans and corporate rates are available upon request. 
I offer a 10% discount to those on maternity leave or furlough or to those who have been made redundant.
Looking for a more affordable way to get psychometric insights?
I offer 2 x 90 minute 1:1 coaching sessions and the psychometric tool in my Rainbow Package.
Add a personalised Hogan insights recommendations report –  £199
Or click the image below for other ways we can work together 1:1.
The GOLD Package - Client Testimonials
"I wanted to say a HUGE thank you for all your help this year. You have really been the most incredible support and ignited my thinking. Working with you has really helped clarify who I am, what's important to me and the value I have. On top of that it is rare to find someone you really connect with and I definitely found that with you."
"I was facing the prospect of redundancy earlier this year – having worked at the same company for many years, the prospect of change was definitely daunting, however I knew this was an opportunity to take stock of things and really revisit what's important to me and my career. I decided to work with Sarah to help guide me through that process … and boy am I pleased I did!

Sarah has helped me work through the fog to gain clarity and pick through what it is that makes me tick and ultimately happy at work. It's been a great experience and a real investment in myself. I would highly recommend working with Sarah on any of her courses to help focus your career thoughts, gain clarity, be accountable and have a wing woman! Thank you again, Sarah."
"I worked with Sarah in a professional capacity (i.e she has been my coach for the last couple of months). I asked Sarah for help when my mum was suddenly diagnosed with terminal cancer and I was feeling as though my entire professional life had all been a bit of a pointless struggle. Despite having set up a successful business, running a "not-for-profit" group for thousands of mums to help them find work and being an advisor to the Department for Business, this very personal bolt from the blue caused me to call into question everything I was doing professionally.

Running your own business can be lonely - you don't have a boss or someone above you telling you when you're about to make the wrong decision and I agonised over the decisions and choices I'd made. Sarah has been Fantastic - with a capital F! Her cocktail of psychometric analysis and professional guidance, without ever actually forcing an opinion has been invaluable.

As a direct result of her 1:1 SHINE programme I have had a huge break through. I can't wait to get started on this next chapter. It feels totally analogous with my values, beliefs and ambition. It doesn't mean tearing up everything that's gone before but I've gone from stumbling in the dark to finding the energy to climb the mountain, break through the clouds and I'm feeling totally empowered.

Her fees are extremely reasonable, it's a structured approach not just a series of weekly chats.I could not have got to this point without her help.
Thank you Sarah. And world watch this space...!"
Get in touch
I'd love to hear from you if you think I could help.
Drop me a line on  sarah@shinebrighterconsulting.co.uk to find out more or click the yellow button above to arrange an informal, FREE 'no strings' 20 minute chat to see if coaching could help you move forward.
Let's connect
Why not join in the conversation and  follow @shinebrighter.withsarahclarke on Facebook or Instagram for career development tips and advice, join my free Facebook Group, The Shine Brighter Playbook or sign up for my monthly newsletter.