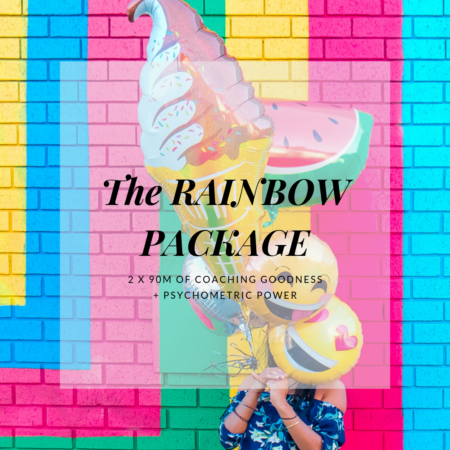 The RAINBOW Package is the perfect option for you if you aren't able to commit to a 90 day programme of coaching or are looking for a more affordable option.
Many of my clients have busy lives and any 'me time' (yes, I class coaching as 'me time'!) is a precious and often rare commodity! 
This tool is particularly insightful for leaders, managers or female founders running their own businesses as it also gives insight into your authentic leadership style.
This package will be hugely beneficial to you if you're currently  suffering from a lack of confidence or self-limiting beliefs such as Imposter Syndrome – the fear of being 'found out' or feeling like a fraud in your work life.
You'll gain insights about your value and reputation in the workplace or with your clients; which will shine a light on whether or not you are showing up in an authentic way that will ultimately get you more of what you actually want.
Using insights gleaned from a powerful psychometric leadership tool called Hogan, I'll help you reconnect with your unique professional values and strengths as well as those blindspots or de-railers that might get in the way of your success if left unchecked.
These insights about your personality hold the secret to unlocking your professional potential and happiness in your career or business.
Hogan's theory is that your reputation – both positive and negative – will determine your success and happiness at work and in business.
This comprehensive psychometric assessment accurately illustrates how you are currently perceived by others.
Only when you understand your reputation at work or in business, can you appreciate how you're currently 'showing up' in the eyes of others.
If you discover that your reputation doesn't align with how you want others to see you, the tool gives you clues about the tweaks you could make to your behaviour and various strategies you could employ that will ensure you start showing up as the best version of yourself at work.
By bringing the whole and best version of yourself to your work every day, you'll do your best work, feel more fulfilled and authentic and attract more of your ideal clients if you are running your own business.
I will send you your login details for your online Hogan assessment and you'll be able to work through the 3 questionnaires in your own time. You'll need about 15 mins to complete each questionnaire.
We'll then arrange 2 x 90 minute 1:1 coaching sessions via Zoom, during which I'll take you through your assessment coaching insights and feedback. 
By the end of the second session, you will have a practical, step-by-step plan that you'll be able to start implementing the very next day.
For an investment of £599* you'll get:
Access to the Hogan psychometric tool (3 reports: Values, Strengths and De-railers) – worth £350
2 x 1:1 Hogan insights-based coaching sessions (via Zoom or face-to-face** if convenient) – worth £400

 

Hogan materials and handouts
(*payment plans and corporate rates are available upon request.
 I offer a 10% discount if you are on maternity leave, furlough or if you've been made redundant.)
Add a personalised Hogan insights recommendations report –  £199

Upgrade to

The Gold Package

for even more support and insights on how you can design your best work life and unlock your potential, in either your career or business –

£599
Or click the image below to take you back to other ways we can work together 1:1.