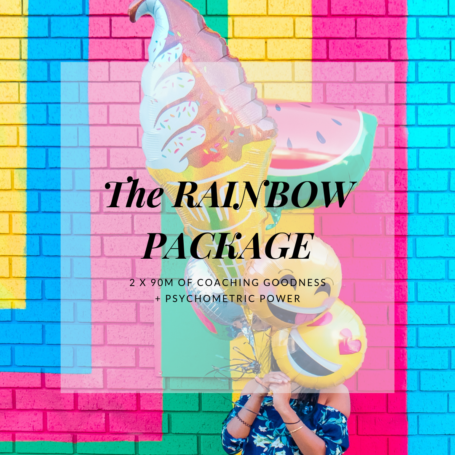 The RAINBOW Package is the perfect option for you if, for whatever reason, you don't feel able to commit to a 90 day programme of coaching. Many of my clients are busy working mothers and 'me time' (yes, I class coaching as 'me time'!) is a precious and often rare commodity! This package is like a super-charged version of my signature 90 day Find your S.H.I.N.E 1:1 programme.
Using insights gleaned from a powerful psychometric tool called
Hogan
, I'll help you reconnect with your unique professional values and strengths as well as those blindspots that might get in the way of your success if left unchecked. These insights about your personality hold the secret to unlocking your professional potential and happiness in your career or business. I will send you your login details for your online Hogan assessment and you'll be able to work through the 3 questionnaires in your own time. (You'll need about 15 mins to complete each questionnaire.) We'll then arrange 2 x 90 min coaching sessions, either face-to-face if convenient or via Zoom, when I'll take you through your assessment coaching insights and we'll work together to formulate a practical, step-by step plan that you'll be able to start implementing the very next day.
For an investment of £499* you'll get:
Access to the Hogan psychometric tool (3 reports: Values, Strengths and De-railers) – worth £250
2 x 90 min insights-based coaching sessions (via Zoom or face-to-face** if convenient) – worth £300 
The S.H.I.N.E Workbook of templates and theory – worth £45
A Shine Brighter tote and coaching journal – priceless!
(*payment plans and corporate rates are available upon request. I offer a 10% discount if you are on maternity leave.)
(**some face-to-face meetings may incur travel expenses) 
Add a personalised Hogan insights recommendations report –  £150
Join the next 6 week Find your SHINE (Online) group coaching programme to do more reflection and further consolidate your insights – £385
Upgrade to The Gold Package for even more 1:1 support and insights on how you can live your best work life – £399
Or click the image below to take you back to other ways we can work together 1:1.