My signature 'S.H.I.N.E' career coaching programme
Are you feeling stuck, lost or unfulfilled at work? Are your confidence levels at an all time low?
Have you lost sight of what you're great at and feel like you're just 'going through the motions' or working 'on autopilot'?
Perhaps your career mojo is 'missing in action'?
Do you long to find that elusive sweet spot where your passions, talents and experience collide, whilst allowing you to enjoy family life out side of work?
If you've been through a perspective-giving significant life event, such as motherhood, redundancy, long term sickness, divorce or bereavement, you'll probably be feeling more than ever that life is simply too short to feel unfulfilled professionally.
A lot of my clients have been putting everyone else's needs first for a long time…
Isn't it time you finally unleashed your brilliance on the world, found 'your thing', boosted you confidence and worked out how you could be happier, more successful and more fulfilled at work?

Don't panic. You are not alone. And more importantly, you don't have to climb this seemingly insurmountable mountain alone!
I know I could relate to every single one of the above statements when I returned to my senior role in HR after my first maternity leave.
And that's why I designed my signature 'S.H.I.N.E' 1:1 career coaching programme.
S.H.I.N.E is a comprehensive, strengths-based, career clarity and confidence programme; built around the S.H.I.N.E coaching framework which I devised to help myself out of my own sizeable career rut back in 2016!
It will take you on a veritable journey of professional self-discovery and you'll emerge with boundless clarity, confidence and optimism about what your professional future holds.
Throughout our time together, you'll reconnect with your core values, unique talents and strengths, your transferable skills and experience; and ultimately get clarity on your true professional identity and purpose.
I'll help you design your very own blueprint for professional happiness and success; so you can design a career path that will allow you to be more authentically YOU and ultimately live your best work life.
We'll also unpick your past successes and achievements to reveal your USPs and the unique value they add.
By the end of the programme, you'll have more confidence and self-belief, clarity about what you stand for, what you're great at, as well a step-by-step action plan of how you can unlock your true professional potential and start living your best work life.
You'll know who you are, what you're great at and what you need from of your career in order to be both happy and successful.
You'll also uncover that elusive sweet spot where your passions, talents and skills collide to fulfil a need in the world. Your Ikigai or purpose.
Those clients who go on to fully implement their action plans, become more successful and fulfilled and shine even brighter in their careers and businesses.
The insights you'll glean on this journey will help you create a blueprint for your best possible professional future. A career plan that will allow you to be more authentically YOU every day of your working life.
You'll be able to build a career that is perfectly aligned with your core values and that plays to your innate strengths. Act on this plan and you'll find that work no longer feels like 'work'!
By the end of the programme you'll know what sort of roles, industries, company cultures, colleagues, managers, business ventures and clients you should be seeking out in order to fulfil your professional potential and shine brighter!
You'll also learn how to leverage and boost your strengths, talents and skills in order to get your more of what you truly want and need out of your career.
(See below for a very generous client testimonial!)
DESIGN YOUR BEST WORK LIFE & UNLOCK YOUR POTENTIAL
This programmatic approach using my bespoke SHINE coaching framework will help you achieve the best possible results by maintaining momentum and encouraging accountability over a period of 90 days (or intensively over just a few weeks if you really mean business!) 
We'll work together over a series of six regular 1:1 sessions (or fewer longer sessions), with some short reflection exercises and 'homework' in between our discussions. We can meet face to face if you're local to Chesham* or alternatively I work with many clients all over the country and the rest of the world via Zoom.
Your  pace of progress will largely be determined by you and the time and headspace you have available to commit to your plan. 
I work on an outcome basis, tailoring my programmes to your specific end goals and desired results; using the SHINE framework as a structure to work within.
I offer a few different package options which cater for a variety of budgets, available time and headspace. Think of it as a 'pick 'n' mix' approach to coaching; ensuring you get exactly what you want in the best possible format for YOU. 
Please ask about payment plans to help you spread the costs.
I also offer a 10% discount to those on maternity leave.
* Please note that some face-to-face meetings may incur travel costs.
CHOOSE A 1:1 COACHING PACKAGE
I am a strong believer in the fact that coaching will only help you achieve incredible results if every aspect of the approach is tailored entirely to your needs.
And by that, I mean how much time, headspace and budget you have available to you as well as how you prefer to work – intensively, little and often, with or without the scientific data of a psychometric tool to validate your own insights etc.
Click an image below to find out more about what is included in each package.
Please ask if you'd like to create your own bespoke 1:1 package.
Client Testimonial - The GOLD Package
"Running your own business can be lonely - you don't have a boss or someone above you telling you when you're about to make the wrong decision and I agonised over the decisions and choices I'd made. Sarah has been Fantastic - with a capital F! Her cocktail of psychometric analysis and professional guidance, without ever actually forcing an opinion has been invaluable.

As a direct result of her 1:1 [GOLD] SHINE programme I have had a huge break through. I can't wait to get started on this next chapter. It feels totally analogous with my values, beliefs and ambition. It doesn't mean tearing up everything that's gone before but I've gone from stumbling in the dark to finding the energy to climb the mountain, break through the clouds and I'm feeling totally empowered.

Her fees are extremely reasonable, it's a structured approach not just a series of weekly chats. I could not have got to this point without her help.
Thank you, Sarah. And world watch this space...!"
NOT READY TO COMMIT TO A PACKAGE JUST YET?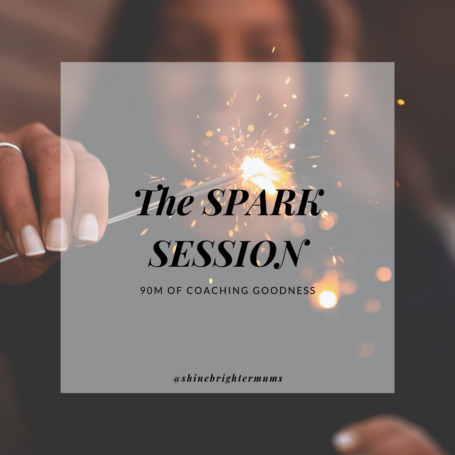 I understand that investing in your own personal and professional development through coaching is a BIG deal and a sizeable commitment on many levels. Emotionally, financially and also from a time-perspective; particularly if you're a busy mother with lots of plates to spin! If you're going to be investing in yourself, you have to be 100% sure that coaching is going to be the best approach for you.
In this instance, The SPARK Session could be the perfect option. For an investment of £199 and 90 minutes of your time, you'll get a 1:1 coaching session via Zoom (or face-to-face if you're local to Chesham*), during which we'll focus on tackling your biggest professional challenge. You'll get more clarity and confidence around the steps you can take in order to move forward and be more successful in your career or business.
If you subsequently decide to upgrade to one of the above packages, I will happily roll over the costs accordingly.
* Please note that some face-to-face meetings may incur travel costs.

LOOKING FOR ONLINE GROUP CAREER COACHING?
Many talented women are keen to shine brighter professionally but unable to commit to 1:1 coaching, so I designed a group online career coaching programme, SHINE (Online), inspired by my bespoke signature 1:1 S.H.I.N.E coaching programme and public workshops, to make career development coaching more accessible.
In just 6 short weeks, this online group coaching programme will give you incredible clarity and confidence in your career or business, by helping you create your own blueprint for a happier and more successful work life. And all for a fraction of the price of a 1:1 coaching programme.
Click here or on the image above to find out more and register your interest for the next enrolment
GET IN TOUCH
I'd love to hear from you if you think I could help. Drop me a line on sarah@shinebrighterconsulting.co.uk to find out more or click the button below to arrange an informal, FREE 'no strings' 20 minute chat to see if coaching could help you move forward.
STAY IN TOUCH
Why not join in the conversation and follow me on @shinebrighter.withsarahclarke on Facebook or Instagram for career development tips and advice, join my free Facebook Group, The Shine Brighter Playbook or sign up for my monthly newsletter.