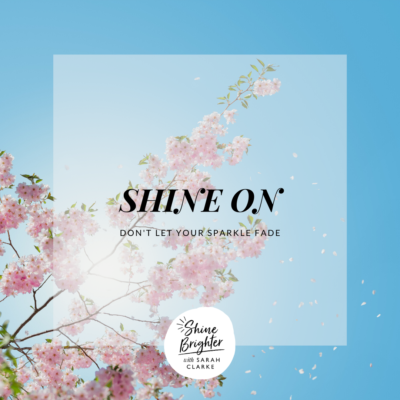 What is the SHINE ON coaching package?
So you've finally deciphered your best next steps in your career or business (or you've completed one of my S.H.I.N.E career coaching programmes …) and you finally have real clarity about what you want and need in order to unlock your potential at work and live your best work life.
You're excited about embarking upon your next steps in your career or business…
You're raring to go…
But then… the washing machine breaks down, your little one comes down with yet another lurgie, a client adds another sizeable project to your already burgeoning work load, self-limiting beliefs and imposter syndrome rear their ugly heads… plus you're just plain knackered.
In other words, life gets in the way. And then you go and get in your own way.
Despite your very best intentions, you may find yourself struggling to maintain momentum and keep your initial spark, motivation, confidence and enthusiasm for change alight.

I get it. Really I do. I've been there. And still find myself there quite often too.
The biggest frustration of so many of my clients is actually finding the time, energy, confidence, motivation and accountability to ensure they actually put into action all their fabulous work happiness plans.
A SHINE client once said to me,"If only I could have you in my pocket to keep me on track, Sarah!"
And so the idea of the SHINE ON package came about!
Just because your SHINE experience has come to an end, it doesn't have to be goodbye forever!
SHINE ON is a special mindset support and accountability coaching package designed entirely around you and your work and business needs.
This package will ensure you achieve your wildest career or business goals through a careful mix of accountability, challenge, confidence and mindset coaching and mentoring support.
Is this package right for me?
This package is for you if you're looking for:
Support with defining your own

vision

and definition of 

success

for your career or business
A cheer-leader to keep you 

accountable

 and on track with your career or business goals
Someone to help you align these business or career goals with your personal values 

Help with overcoming your 

mindset

 blockers such as self-limiting beliefs & imposter syndrome

A sounding board with whom you can 

clarify your offer 

and value

Someone to help you 

prep for the 'big stuff' 

such as interviews, presentations or client pitches

Continual support to help you 

maintain momentum

 with your career and business plans
Regular

 clarity

 and 

confidence

-boosting check-in calls
An objective, ex-HR leader '

work buddy

' with whom you can work through any people challenges or crises of confidence you might be facing
A friendly reminder of your innate 

talents, strengths 

and the value you add through your 

USPs

Assistance in creating your own authentic 

personal brand, getting more visible 

so you can raise your 

profile

 at work or in your business
A 

work wing (wo)man

 or 'fellow small business buddy' who has your back, whatever the weather!
The opportunity to revisit and recalibrate your 

boundaries

 and 

priorities

 based on your core values

A

work and small business mentor

 to help you 

grow your career or business

 in a way that feels natural and totally authentic to you.
 You can purchase bundles of 3, 6 or 12 x 90 minute coaching calls via Zoom to use as and when required
Office hours support via email or WhatsApp between sessions
Prices start at £690 for a bundle of 3 x 90 min sessions
If you'd like to find out more, discuss a bespoke (or design a more intensive) support package tailored to your needs, please click the button below to book a FREE 20 minute call. I'd love to hear from you.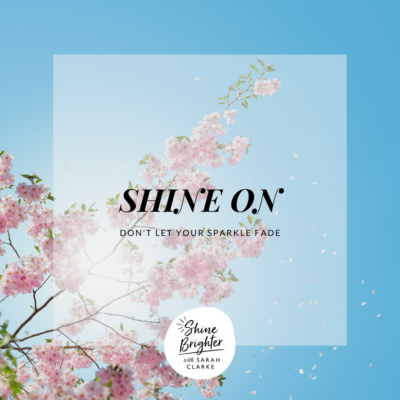 If you're passionate about creating more happiness in your work life, I share loads of free resources and content on social media so please do connect with on your favourite platform.
I'm @theworkhappinesscoach on instagram, facebook (where I also have a free Facebook group called The Shine Brighter Playbook).
I'm  on Linkedin and I also have a newsletter called Work Happy Words, where I regularly share handy hints and tips as well special offers and early bird discounts to my various programmes and packages.
Alternatively you can drop me a good old fashioned email on sarah@shinebrighterconsulting.co.uk or book a free no strings call using the button below.