Maternity and Returner Coaching
During and after a significant period of transition, such as a career break like maternity or adoption leave, women can often lose their confidence and sense of professional identity.
The perspective that motherhood bring can often make a woman revaluate what she wants out of her life and career. If an employer neglects to support her at this pivotal time, this can be potentially disastrous for both parties.
Female-focused career development and leadership 1:1 coaching programmes and group workshops
Maternity and returner 1:1 coaching programmes and group workshops

Maternity and returner consultancy
I have over 15 years of employee engagement and development and coaching experience; operating on the senior management team as Head of Talent & Culture for several successful businesses.
I have been coaching senior leaders, managers and high potential employees from a wide range of industries for nearly 2 decades; whilst performing the role of an internal coach, facilitator and development consultant and latterly through my own business, Shine Brighter Consulting.
I am a qualified Strengths and Performance Coach and I am also certified to administer various psychometric tools including MBTI, Hogan Leadership Forecast Series Assessments  and Gallup's CliftonStrengths which I use throughout my coaching practise.
You can read more here about my other female talent coaching services.
Click here for more on my work experience.
As a mother of 2, returning to a senior HR role after maternity leave, I truly identify with the challenges facing women in the fast-paced and often seemingly unsupportive world of work
This combined with nearly 2 decades of talent development, coaching and employee engagement experience has made me highly attuned to the needs of returning female talent as well as the commercial needs of the business world.
Sample Maternity & Returner Coaching Programme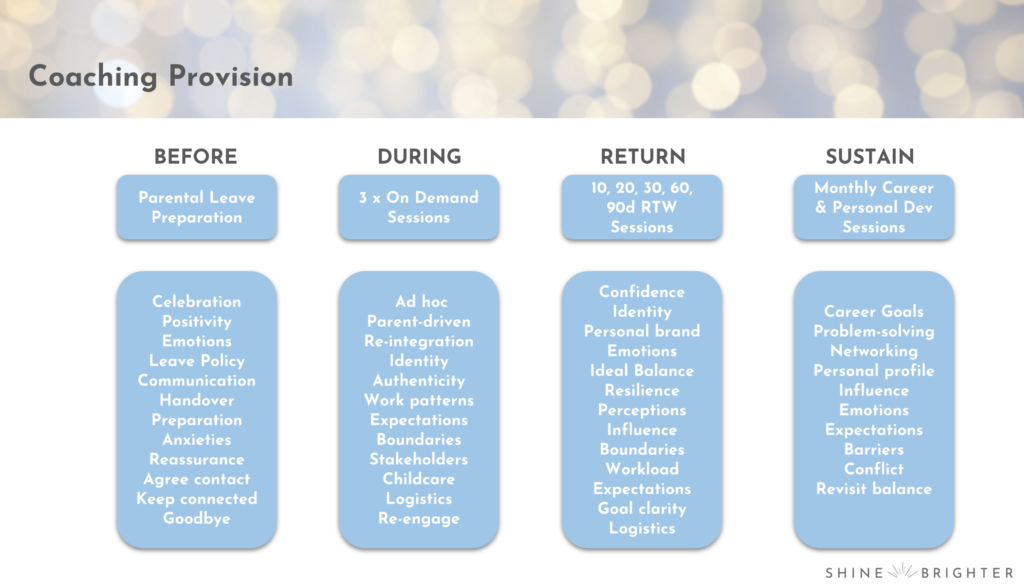 Everything I create is entirely bespoke and can be tailored to your organisation's available time, resources and budget. 1:1 coaching sessions start at £599 for a 90 minute session.
Please drop me a line on sarah@shinebrighterconsulting.co.uk if you would like more information regarding any of these services.

"Sarah has been working with us at AIG Life for a couple of years now. We had noticed the challenges facing our employees following a career break and specifically Maternity leave when you (well I did) wonder who you are at work after the rush of parenthood. Sarah helped us created our returner program- we have seen our returners go from "strength to strength". Sarah has also jumped in when women faced career quandaries and, through her endless positivity, helped them find their own right path. We are proud of our gender balance and I'd like to think the retention of key people following their career break, with Sarah's support, contributes to our ongoing success."
"I wanted to say a massive THANK YOU for taking me on my SHINE journey! The 1 to 1 coaching throughout the whole process has taught me how I can do my role even better and reminded me where my strengths lie. I have learnt a lot over the past 6 months and the personalised Hogan test results provided real insight. These have really helped me to rebuild my confidence and self-belief in what my strengths are, what my values are, and taught me how one feeds in to the other.

Essentially I have rediscovered what makes me unique, what I excel at and how I can build more of this in to my role – which equates to a win win situation! The last two sessions in particular have given me lightbulb moments of "that's what I excel at and need to do more of!" It has also reinforced that AIG Life's values match my own, making it a fantastic company to work for."
If you're a collaborative and people-centric organisation, I'd love to help you cultivate a colourful and inclusive workplace culture where your best people – even parents – will do their best work, now and in the future.
Working closely with your Talent and Leadership teams, I'll help you create entirely bespoke and sustainable culture and engagement strategies that align your company's brand values authentically and seamlessly with your internal workplace culture.
The corollary is a purpose-driven, inclusive, engaged and high performing culture and a happy team.
Click on the image above or click here for more information on my culture and engagement consultancy services.