Do you ever find yourself thinking;

"There must be more to
work than this..."

or

"Is work meant to feel this hard?"
Are you feeling stuck or frustrated?

Are you struggling with a lack of confidence,
self-belief & direction in your work life?
"After Sarah's help I now feel fearless, exuberant, flying."
Don't panic.
I can totally relate.
But perhaps more importantly,
I can help!
Like all coaches worth their salt! I've created a really simple, tried and tested 5-step career confidence and clarity coaching framework called S.H.I.N.E.
Through 1:1 and group career and personal development coaching using my signature S.H.I.N.E coaching framework, I've now helped well over 100 brilliant clients get unstuck, confident and crystal clear on their next steps; unlocking their professional potential and helping them shine brighter in their careers and businesses.
This very work happiness framework helped me personally find more career confidence and clarity in my own work life when I found myself in my own sizeable career rut back in 2016.
Although you might expect me to say this, I am honestly now doing what I love every single day (and earning more than I did in my part-time Head of Talent Development & Engagement corporate role!)
I'll help you articulate confidently and clearly: who you are, what you want and the unique value you have in the world of work and business.
We'll work together to figure out how you can design a happier and way more fulfilling work life.
All on your terms.
"Working with Sarah has really helped clarify who I am,
what's important to me and the value I have."
I'll help you unlock your unique potential &
design a happy, fulfilling work life
- on your terms.
"Sarah has helped me work through the fog to gain clarity and pick through
what it is that makes me tick and ultimately happy at work."
Reconnect with your strengths and values and what makes you happy and successful at work. Get unstuck, confident and clear on your best next steps.
Start or level up your own freelance or small business. Identify your USPs, boost your confidence, clarify your offer and find more balance.
Become a more intuitive, authentic and confident leader in your career or business. Reconnect with your value, define your own leadership style, raise your profile and be more successful.
Ways we can work together
Over the course of 6 x 1:1 sessions, over 6-12 weeks (or fewer intensive 1:1's), we'll work through my signature SHINE coaching framework and you'll reconnect with who you are, what you're great at & what would make you happier & more fulfilled in your work life.
Over the course of 7 short weeks, you'll work with through my signature SHINE coaching framework with a small group of like-minded women to design a blueprint for your best work life. You'll learn what makes you tick & how to find more happiness & fulfilment.
Every month you'll get access to powerful career and personal development resources, a workbook, masterclass, weekly 'Career Conundrum' threads & a private 'members only' community on Facebook. You can also join a group coaching call to consolidate your learning, ask questions and get even more accountability support.

I'm Sarah Clarke. Mum, wife, optimist and self-confessed personal and career development geek.
I'm on a mission to help talented women unlock their potential and find more happiness at work, by showing them how to design their best work lives – on their terms.
I've worked in the fields of employee happiness and development for nearly 2 decades and am fascinated by – and incredibly passionate about – the professional potential of women in particular.
I left the corporate world of employee engagement and development in 2016 and went freelance. I then set up my own career and leadership development coaching business in March 2018.
Since then I have helped over 100 talented women reconnect with their unique strengths, values and confidence; allowing them to unlock their potential and shine brighter in their careers and businesses.
My profound interest in personalities and human potential was confirmed when I qualified as a strengths and performance coach over a decade ago.
I'm also certified to conduct MBTI (Myers Briggs Type Indicator), Hogan's Leadership Forecast Series and Gallup's CliftonStrengths psychometric assessments which I use throughout my coaching practise.
My approach is informed by positive psychology and neuroscience insights.
Before becoming a freelance career and leadership coach, I worked at several fast-paced and dynamic organisations, each one with their own unique and vibrant culture. All of these companies epitomise innovation, passion and creativity and these values have helped shape my own work philosophy.
Originally from Nottingham, I now live in Buckinghamshire with my husband, two young daughters and cat!
You can read more about my work experience here.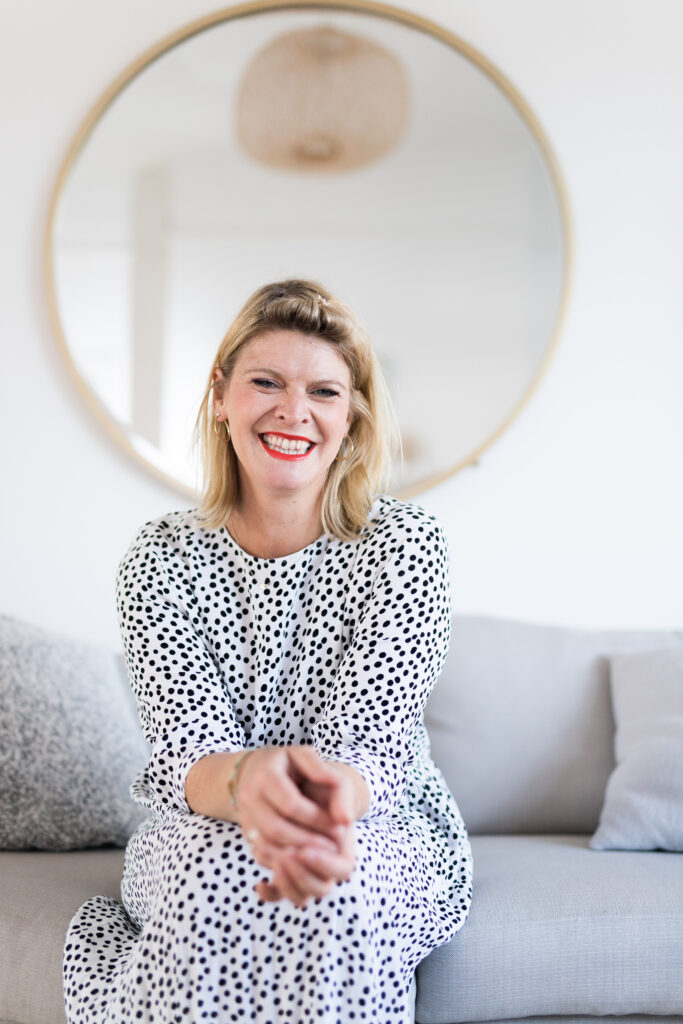 "Last week, I finished four months of careers coaching with a truly fantastic woman, Sarah Clarke of Shine Brighter. After her help I now feel fearless, exuberant, flying. I now have clarity on my values, strengths that I didn't even know I had and an artillery of redefined skills and superpowers at my disposal. I have so much more confidence in myself and my abilities and, although I've so much work left to do, I know I can bloody well do it. So a huge THANK YOU, Sarah – you have indeed made me shine brighter!"

"I wanted to say a HUGE thank you for all your help this year. You have really been the most incredible support and ignited my thinking. Working with you has really helped clarify who I am, what's important to me and the value I have. On top of that it is rare to find someone you really connect with and I definitely found that with you."
"I was facing the prospect of redundancy earlier this year – having worked at the same company for many years, the prospect of change was definitely daunting, however I knew this was an opportunity to take stock of things and really revisit what's important to me and my career. I decided to work with Sarah to help guide me through that process … and boy am I pleased I did! Sarah has helped me work through the fog to gain clarity and pick through what it is that makes me tick and ultimately happy at work. It's been a great experience and a real investment in myself. I would highly recommend working with Sarah on any of her courses to help focus your career thoughts, gain clarity, be accountable and have a wing woman! Thank you again, Sarah."
"I just finished the SHINE [Online group coaching] Program and I didn't want it to end! Sarah is AMAZING to work with and the program exceeded my expectations on every level. Prior to the program I felt like I had a good handle on my strengths, but was really struggling to articulate them and bring them to life. Working with Sarah helped me take a step back and deeply look at my values. It was the piece that really made it all come together. I hadn't ever really stopped to think about or unpick my values in that way. I finish the course feeling empowered and much more positive about my future. Thank you so much for all your help Sarah!"
"Having recently completed Sarah's [online group] Shine coaching programme, I can wholeheartedly recommend others consider it if they're feeling blocked, uninspired or feel like they need a warm, supportive hand to get them back on track. I loved the methodical nature of Sarah's framework and had multiple lightbulb moments as I worked through the different exercises. It felt so indulgent and so amazing to allow myself time to focus on what I actually want, rather than what works for everybody else and it's given me loads of clarity about moving forwards – what to look for, what to look out for and how I can be happier in my professional life. Sarah is so passionate and engaged with your story that her energy alone fires you up and her experience and insight will definitely inspire you. I'm recommending the course to everyone I know at the moment!"
"The help, support and guidance you've given me to help unpick the massively confusing state of head / career / what it is I am good at / what it is I want to do, has been just fantastic. Thank you SO much."
"Working with Sarah was a real joy and I looked forward to all of our sessions together. Before we started I was confused about what I should be doing with my career, couldn't really pinpoint what I was good at and had had my confidence knocked by a few bad clients. However, throughout Sarah's SHINE program, I managed to unscramble what interests me, the work I enjoy, and what I am good at. HOORAY! Identifying my values and strengths and where I should be focusing my energies, has really spurred me to not settle for work that doesn't align with me or bring me happiness. I would highly recommend Sarah!"
"Sarah is fantastic at helping you to understand more about what you're naturally good at, what your strengths are and how you can focus on those areas to excel. I've loved working with Sarah - her warm and encouraging style, as well as her breadth of knowledge and experience, have made working with her really enjoyable. If you want support to remind you of what you're best at and the motivation to go for it, I'd highly recommend Sarah."
"The 1:1 SHINE programme with Sarah was such a positive experience and helped me make some huge changes in my business and personal life. Sarah is incredibly warm and skilfully guided me on a personal journey to take more control over my career. I was stuck in a rut, feeling low and unable to see a way forward. I now know my strengths and where to focus my time and energy in order to reach my goals. I would recommend Sarah and the 1:1 sessions to anyone."
Drop me a line on sarah@shinebrighterconsulting.co.uk to find out more or click the gold button to arrange an informal, FREE 'no strings' 20 minute chat to see if coaching could help you move forward.