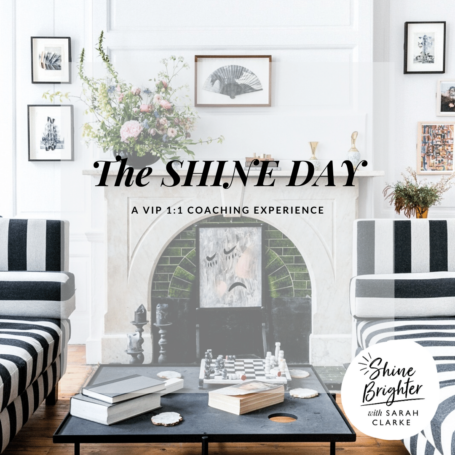 More and more women are wanting to make significant progress in their professional lives over a shorter timeframe than my signature 4-6 month 1:1 SHINE coaching programmes. 
We all live such busy lives nowadays but taking a full day (or two half days) out to focus on your professional development can sometimes feel a bit more manageable!
There is nothing like getting away from your home or desk (let's face it, they're often the same place at the moment) to focus on YOU and your professional dreams and goals.
Is this package right for you?
The Shine Day package is the perfect option for you if:
You're located within easy access of Central London and the Allbright women's members' club in Mayfair, London
You like the idea of a more indulgent personal development experience – think of it as a 'spa day' for your career or business!
You learn and make progress by talking things through and bouncing ideas off someone 
Time is of the essence and you're keen to take back control of your work happiness and success as soon as possible. You really mean business!

Perhaps you have a busy career or business that; when combined with family life, leaves you little 'me time' for personal development or reflection

You feel that taking a day (or two half days) out of your busy schedule is more convenient than having regular 1:1 sessions over a period of 4-6 months.
Have you downloaded my free founder workbook?
After an initial 20 minute discovery call via Zoom to agree your objectives and goals for our time  together, we'll arrange to meet at the gorgeous Allbright women's private members' club in Mayfair, London (or another mutually convenient venue of your choosing**).
Over the course of our time together (approximately 6 hours spread over the course of 1 day or 2 x half days), we'll work through the whole of my signature S.H.I.N.E © coaching framework to define your blueprint for professional happiness and success. 
By the time we arrive at the 5th and final phase of the framework, 'E is for Embark', you'll have created a practical, step-by step plan that you will be able to start implementing the very next day.
During The Shine Day you will: (in either one full day or 2 x half days)
Decode, identify and define your core values and what's important to you

Reconnect with your innate

talents, strengths and USPs; boosting your career confidence

Articulate clearly the

value of your skills, knowledge and experience in the world of work and business
Learn how to boost and upgrade your strengths to 'Superpowers'

Design your 

Work Happiness Blueprint©

that'll help you

unlock your potential and design your best work life
Understand how you can achieve your goals and take your career or business (idea) to the next level
For an investment of £1199* you'll get:
At least 6 hours face-to- face VIP 1:1 coaching at the

Allbright (worth over £1000)
The S.H.I.N.E© Workbook  – 50 pages of coaching exercises, templates and theory
A beautiful Work Happy Journal
Refreshments at the Allbright
A light lunch at the Allbright (when you choose the full 1 day option)

A glass of fizz (or two!) to celebrate all your hard work!

Office hours email support for 1 month after our time together
A 1:1 follow up call to support your with your next steps within 3 months of your session – worth up to £275
Free access to my Shine Collective career and personal development membership for 3 months – worth over £140
(*payment plans and corporate rates are available upon request)
(**face-to-face sessions held elsewhere may incur travel expenses)
"I had been searching around for someone to help support in creating a focus for my business moving forward. I really wanted help in making my intentions and business ethos clear to all my past and future clients. The Shine Day with Sarah was honestly the best thing for helping my confidence as a business woman and truly helping in affirming my hopes for the future and how I can get there. We worked on getting super clear on my offerings and how I can showcase these to my clients. What makes my business stand out from the rest and helps it be unique. It came at the perfect time as I was making big moves in my personal life, so being able to continue the theme into my business life was great. I'm so grateful to Sarah for her support, not only on the day but also the months after. She really cares and is a great cheerleader. I highly recommend working with her!"
"Before I met Sarah I was doing what I thought I should be doing based on everyone else's benchmarks and expectations. I was so lost with who I was personally and professionally! I was trying to do everything and please everyone, but then after my intensive Shine Day, it all changed.

Sarah helped me to identify my strengths and to know my own truth. I implemented some changes straight away, and even now I'm still using her guidance to finesse my business. I'm so grateful to Sarah, as without her I know I would still be working on the wrong business, and not working towards my happiness! Confidence is a long road but Sarah has really helped me to build mine. I'm incredibly excited about the future - thank you Sarah.
Upgrade your Shine Day experience
Add the Hogan psychometric assessment (which looks at your Values, Strengths and De-railers) + an extra 2 x 90 minute feedback sessions – £799.
Or if you would like to work with me 1:1 over the course of a few weeks or months, my Shine On package might be of interest. Click the image below for more information
6 month group founder programme - The Orchard
The Orchard is a nature-inspired, intimate 6-month, group coaching programme, grounded in positive psychology and designed especially for future and fledgling female founders. 
Whether you're thinking of leaving your 9-5 to work for yourself or you're already self-employed but feeling a bit lost, The Orchard will provide you with a step-by-step, nature-inspired strategy to grow your seed of an idea or your fledgling start-up into a happy, profitable, purpose-led business.
All on your terms. Click the image below for more details.
Not quite ready to commit to a package?
I totally get it.
Investing in yourself can feel really daunting, especially if you're not used to putting yourself first very often!
If you're not ready to go 'all in' and commit to a package of coaching just yet, I offer ad hoc 90 minute SPARK coaching session for £275 where we can focus on a particular challenge you're facing in your work life. 
This can be anything from unpacking your confidence blockers or  self-limiting beliefs to identifying your strengths and preparing for an interview or big client pitch!
You can book and purchase this SPARK session by clicking on the button below.
Or why not join my career coaching membership?
"The SHINE Collective is an inspiring community
for purpose-led women who want to find
more confidence, clarity & contentment
in their work lives."
For just over £10 per week – i.e £49/ month –  you'll get access to professional career coaching, personal development and mentoring support, monthly masterclasses, workbooks, a group coaching call and a private community packed with career and personal development support and resources.
Click the image below for more information.
Have you downloaded my free founder workbook?
If you're passionate about creating more happiness in your work life, I share loads of free resources and content on social media so please do connect with on your favourite platform.
I'm @theworkhappinesscoach on instagram, facebook (where I also have a free Facebook group called The Work Happiness Playbook).
I'm also on Linkedin and I also have a newsletter called Work Happy Words, where I regularly share handy hints and tips as well special offers and early bird discounts to my various programmes and packages.
Alternatively you can drop me a good old fashioned email on sarah@shinebrighterconsulting.co.uk or book a free no strings call using the button below.