S.H.I.N.E - The SILVER Package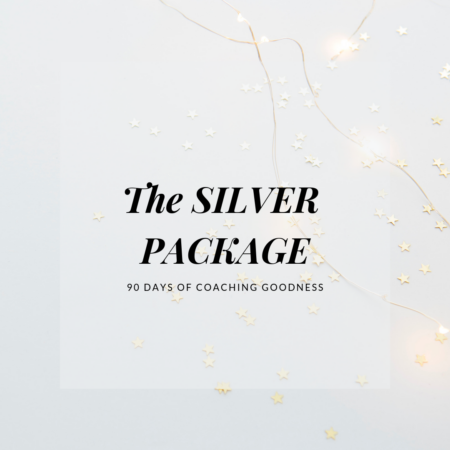 S.H.I.N.E – The SILVER Package is for you if you're ready to take action and work out your best next steps in your work life; be that in your career or business.
Do any of these statements sound familiar?
You've enjoyed a successful career to date, but you've lost your way

You're in need of some clarity and a confidence boost to help reignite your passion for work

You're keen to unlock your professional potential

You're feeling stuck, unfulfilled or unappreciated
You've you lost sight of what you're great at
Most days you feel like you're just 'going through the motions'
Your 'career mojo' missing in action
You'd love to find that elusive 'sweet spot' where your passions, talents and experience collide with a need in the world; whilst allowing you to enjoy family life
When I work with women over 90 days (or more intensively if they really mean business!) through my  bespoke S.H.I.N.E coaching framework, they get incredible results.
Their professional confidence levels soar as they find out what makes them tick and exactly what they want and need in order to be happy and successful in their work lives; be that in their careers or businesses.
These brilliant women go on to make significant changes to their careers or grow and launch businesses they love, unlocking their professional potential. In short, they really do shine brighter. (Click here to see for yourself what they say.)
See the testimonials at the bottom of the page to give you a flavour about what is possible if you're able to commit 100% to your plan. 
(N.B This version of my SHINE programme doesn't include the psychometric tool that features in the S.H.I.N.E – The Gold Package but you'll be able to purchase it further down the line if you'd like to upgrade.) 
The Logistics
Following my signature S.H.I.N.E Coaching Framework, we'll have  6 x 1:1 coaching sessions together over a period of 6-12 weeks (as determined by you), either face-to-face** if convenient or via Zoom.
If you're located within easy access of Central London, you'll have the option to hold our sessions at the stunning Allbright women's private members' club in Fitzrovia.
**some face-to-face meetings may incur travel expenses.
The Workbook
At each of the 5 phases of the  S.H.I.NE framework, I'll send you a section of the SHINE Client Workbook to work through prior to our session. This 50-page workbook is packed full with exercises, coaching reflections and a little theory on values, strengths, purpose and positive psychology.
Session Breakdown & Objectives:
Over the course of our 6 x 1:1 sessions together, you'll:
Decode and define your core values
Reconnect with your innate talents, strengths and USPs
Articulate the value of your skills, knowledge and experience in the world of work and business
Design a blueprint for your best work life

Learn how to boost and upgrade your innate strengths and talents to 'Superpowers'

Understand how you can take your career or business (idea) to the next level
During our 6th and final session together – 'E is for Embark' – we'll work to formulate a practical, step-by step plan to get you living your best work life that you'll be able to start implementing the very next day. 
What if I need more support in executing against my plan?
There will be the option to sign up for additional coaching support after you have completed the SHINE programme to help you overcome self-limiting beliefs such as imposter syndrome, ensure that you deliver against your goals and keep you accountable. You can read more about those options here.
What you'll get for your investment of £899*
6 x 1:1 Coaching sessions via Zoom 

(or face to face** where convenient)

 – 

worth nearly £1200

'Homework' and exercises between sessions

The S.H.I.N.E Workbook  – 50 pages of exercises, templates and theory –

worth £199

A Shine Brighter book bag and coaching journal –

priceless!
Unlimited office hours email support for the duration of the programme
*payment plans and corporate rates are available upon request. 
I also offer a 10% to those on maternity leave, on furlough or to those who have been made redundant.
Add the Hogan psychometric assessment (which looks at your Values, Strengths and De-railers) + an extra 90 minute feedback session – £299 (worth £500)
Or click the image below to take you back to other ways we can work together 1:1.
S.H.I.N.E - The SILVER Package Testimonial
"Last week, I finished four months of careers coaching with a truly fantastic women, Sarah Clarke of Shine Brighter. After her help I now feel fearless, exuberant, flying. I now have clarity on my values, strengths that I didn't even know I had and an artillery of redefined skills and superpowers at my disposal. I have so much more confidence in myself and my abilities and, although I've so much work left to do, I know I can bloody well do it. So a huge THANK YOU, Sarah - you have indeed made me shine brighter!"
Get in touch
I'd love to hear from you if you think I could help.

Drop me a line on sarah@shinebrighterconsulting.co.uk to find out more or click the yellow button above to arrange an informal, FREE 'no strings' 20 minute chat to see if coaching could help you move forward.
Let's connect
Why not join in the conversation and follow @shinebrighter.withsarahclarke on Facebook or Instagram for career development tips and advice, join my free Facebook Group, The Shine Brighter Playbook or sign up for my monthly newsletter.