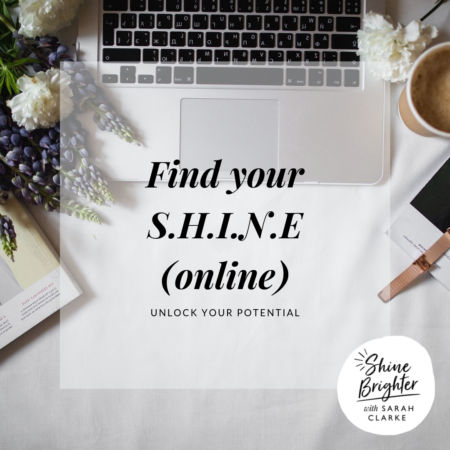 Are you feeling stuck or unfulfilled at work? Have you lost sight of what you are great at and feel like you're just 'going through the motions'? Is your career mojo 'missing in action'? Perhaps you long to find that elusive sweet spot where your passions, talents and experience collide, whilst allowing you to have a family life out side of work?
Life is short. Isn't it time you unleashed your brilliance on the world, boosted you confidence and worked out how you could be happier and more successful at work, without having to sell your soul in the process?
Further to various requests from talented women who are keen to shake up their career, but unable to commit to 1:1 coaching, I designed an online group coaching programme, Find your SHINE (Online), inspired by my signature 1:1 S.H.I.N.E coaching packages and public workshops, with the aim of making shining brighter professionally accessible to all.
In 6 short weeks, you'll gain incredible clarity and confidence around what you're great at and what you'll need out of your career in order to be happy and successful. You'll also uncover that  elusive sweet spot where your passions, talents and skills collide to fulfil a need in the world. Your Ikigai or purpose.
Every week we cover off one phase of my bespoke S.H.I.N.E coaching framework to help you reconnect with your core Values and Strengths; so you can reclaim your own authentic professional identity and go on to shine brighter in your chosen career or business.
We'll also unpick your past successes and achievements to reveal your USPs and the unique value they add.
The insights you'll glean on this journey will help you create a blueprint for your dream professional future. A career path that will allow you to be more authentically you every day of your working life, whilst living in alignment with your core Values and playing to your innate Strengths.
By the end of the programme you'll know what sort of roles, industries, company cultures, colleagues, managers, business ventures and clients you should be seeking out in order to fulfil your professional potential and shine brighter!
The next programme kicks off on in January 2020.
Drop me a line on sarah@shinebrighterconsulting.co.uk to reserve your place
Committing at least 90 mins per week to the exercises and sessions, by the end of the programme you will: 
Understand how to unlock you own professional potential –  by gaining clarity around exactly what you want and need out of your career in order to be fulfilled and successful, and reconnecting with the unique talents you have to offer
Have a better appreciation of your own unique Values and Strengths, as well as your transferable skills, experience and USPs i.e the value they add in the world of work and business
Boost your confidence and self-belief by reconnecting with your unique Strengths, talents, past career successes and Values
Learn how to boost your Strengths and upgrade them so that they become your 'Superpowers'!
Decipher your true professional purpose and understand how you could make a living out of doing more of what you're great at and what's important to you
Get your career mojo back, get unstuck and start to feel optimistic about your professional future again
Have a clear and compelling action plan of next steps which will help you achieve your career goals and ultimately help you 'live your best work life'
Have a new network of talented, inspiring women to support you!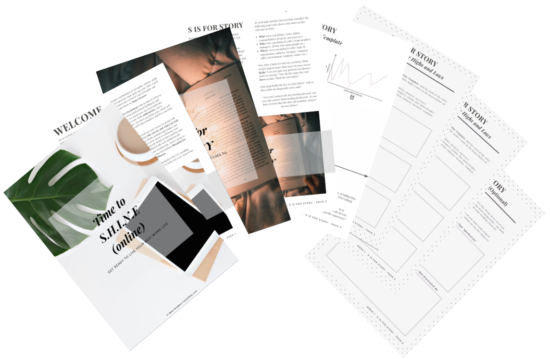 A 6 week, online group coaching programme built around the bespoke S.H.I.N.E coaching framework that I use in my 1:1 packages and public workshops
A 30 minute 1:1  goal setting call with me to help you get the most out of the programme
 10 x training videos taking you through each phase of S.H.I.N.E (these will be pre-recorded videos you'll be able to watch in your own time)
5 x hour-long, weekly group coaching / check in calls (usually held on a Thursday evening at 8:00-9:00 pm) so you'll be able to ask any questions, share progress and ideas (these will be recorded so you'll always be able to access them if you can't make the live session)
Lifetime access to all the weekly exercises &  templates which support each training module
Access to an accountability partner (if you'd like) to help keep you on track
Access to a private Facebook group where you'll be able to connect, ask questions and access materials, book recommendations, resources etc. – (you will have lifetime access to this group and all the materials.)
Option to 'bolt-on' on 1:1 calls with me or a Psychometric Assessment at discounted rates if you'd like extra support and insights.
* Or 2 x payments of £205. This works out at £79 or £82 per coaching session. Plus you'll get lifetime access to all the training materials, templates, videos and a private Facebook group. 
I offer a 10% discount to those on maternity leave.
For a more personalised experience, you may wish to upgrade your Find your SHINE (Online) programme to include 2 x 90 minute coaching sessions.
These sessions will be conducted over Zoom at a time that suits you. We will focus on your own insights gleaned from the exercises throughout the programme and optimise your plan of action.
Upgrading to the VIP version of this programme will bring your total required investment to £698. 
Please note that these VIP spaces are limited so early application is advisable if you would like to upgrade!
Many of my 1:1 coaching clients love the 'forced' reason or excuse for some 'me time' and reflection that coaching and formal personal development affords. 
Many of them also cite benefits in their personal lives when they start to reconnect with their professional identities and themselves again. They no longer feel like just "MUUUUM!!"
"Having recently completed Sarah's SHINE (Online) coaching programme, I can wholeheartedly recommend it to others if they're feeling blocked, uninspired or feel like they need a warm, supportive hand to get them back on track. I loved the methodical nature of Sarah's [SHINE] framework and had multiple lightbulb moments as I worked through the different exercises. It felt so indulgent and so amazing to allow myself time to focus on what I actually want, rather than what works for everybody else and it's given me loads of clarity about moving forwards - what to look for, what to look out for for and how I can be happier in my professional life. Sarah is so passionate and engaged with your story that her energy alone fires you up and her experience and insight will definitely inspire you. I'm recommending the course to everyone I know at the moment!"
If you would like to request more information or reserve your place on the next Find your SHINE (Online) career coaching programme which is kicking off in January 2020, please drop me a line on sarah@shinebrighterconsulting.co.uk